Connect Your Flipdeck Account with Flipdeck iOS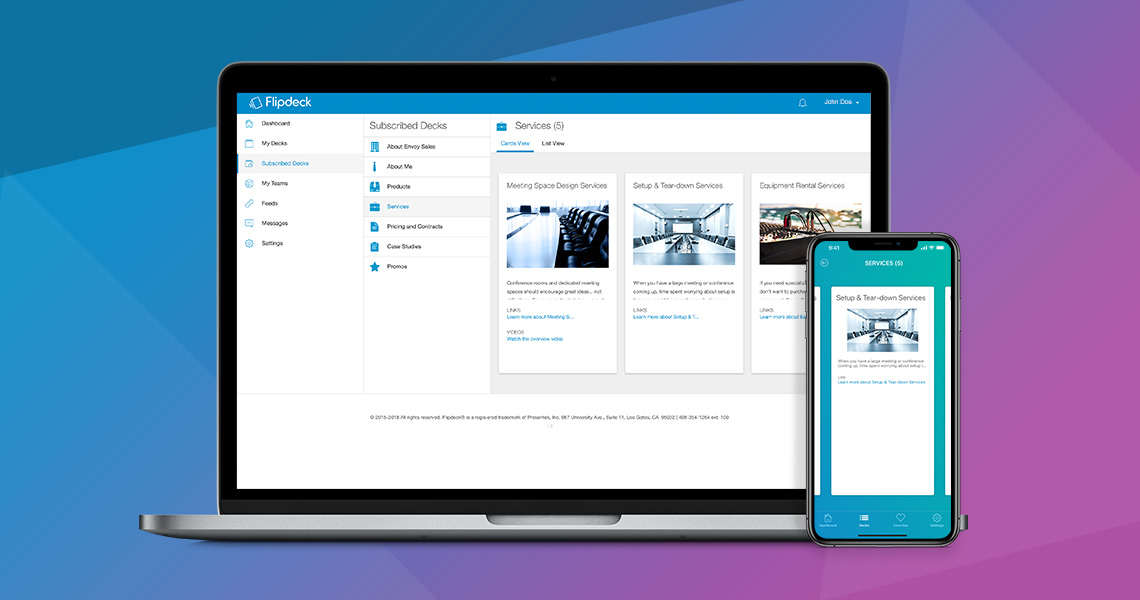 Great news! With our latest update to the Flipdeck iOS® app, you can now connect the app with any type of Flipdeck account*. This means that any centralized feeds, cards, and decks in your account can now show up right inside your Flipdeck iOS app. This opens up a number of new and exciting mobile capabilities to help you share the right content quickly — right from your iPhone®.
Send cards via text message
In addition to sending card contents via email, connecting your account to the Flipdeck iOS app gives you the ability to also send cards via text message. Choose to send cards via text or email directly from your iPhone with just a few touches.
Download decks for offline access
Log in to your account within the app to view the decks and cards from your account feeds. You can even download decks to your app for offline use. When an offline deck or card from your feed is changed online, you'll be notified of the update. It's easy to pull down the latest updates right to your iPhone.
Personalize the decks you use most
Because you can save decks offline to My Decks, it's easy to personalize the content and make it your own. No need to worry about accidentally making changes to shared feed content.
Push your content to your online account
Want to push your personal iOS decks to your online account? No problem. Once you're logged in, it's easy to upload content from My Decks on your iPhone to My Decks in your Flipdeck account.
Enjoy a fast and fluid experience
We've also made some updates behind the scenes to give you an even better native iPhone app user experience. Quick Actions are now available on iPhone 6s and up. Just hard press on the Flipdeck app icon to get started. We've also added haptic and audio feedback to various actions.
We hope that the ability to connect Flipdeck iOS with your Flipdeck account will make it even easier to put the right content into your customers' hands at the right time — making your business look good.
Get the Flipdeck App Connector Option
---
Have a suggestion for a future update? Let us know!
Don't have an online Flipdeck account? Learn more.
Have questions? We're happy to help! Email us at \u0073\u0075\u0070\u0070\u006f\u0072\u0074\u0040\u0066\u006c\u0069\u0070\u0064\u0065\u0063\u006b\u002e\u0063\u006f\u006d.
---
* You can connect the Flipdeck iOS app to any Flipdeck account — just add the Flipdeck app connector option. Contact us for more information about setting up a new Flipdeck account or adding the connector option to your existing account.