How to Build a Playbook in Flipdeck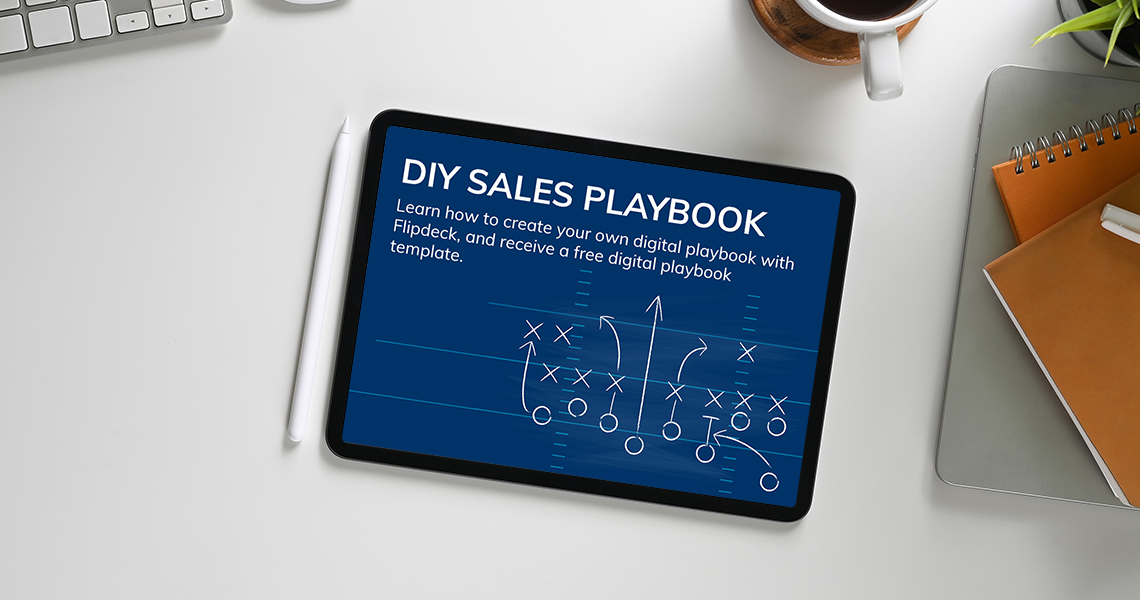 Take your sales playbook from "blah" to "ta-da!"
Wondering how to create a playbook that your sales teams and dealer channels will actually use? We have you covered.
An effective digital sales playbook is...
Highly visual and intuitive
Bite-sized (no more information overload)
Easy to navigate
Simple to update
Flexible / customizable for different selling channels
Easy to share
Trackable
Flipdeck can give you all of this, and more. Follow these steps to get up and running creating your own digital sales playbook with Flipdeck.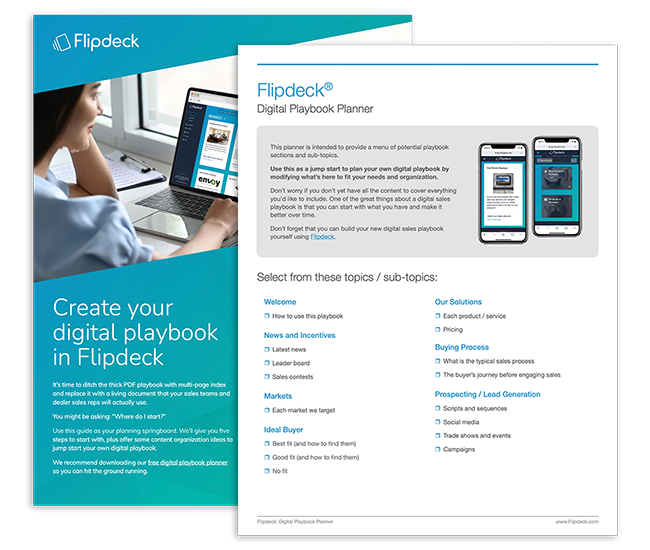 FREE RESOURCES
Download your FREE playbook planning resources and template
Use these resources as a jump-start to plan your own digital playbook. Request access via the form below.
There's no need to start planning with a completely blank page. We've created several free resources to help jump-start your planning process. Access the collection to download these helpful tools:
Create Your Digital Playbook in Flipdeck — This pdf walks you through 5 initial planning steps and provides content organization ideas.
Digital Sales Playbook template — This Excel file gives you a menu of potential main playbook sections and sub-topics. All you have to do is decide what you want to include and start filling it in.
Sample Playbook — This screenshot of a digital playbook in Flipdeck provides a visual example of what your playbook can look like.
Start building in your Flipdeck account
Once you're confident in your playbook plan, it's time to bring it to life.
Start by logging in to your Flipdeck account. Don't have one yet? Create an account today.
Flipdeck makes it easy to organize playbook content in a user-friendly, familiar way. Remember trading card games? Gives your reps and sales teams everything they need in just a few easy steps:
Create decks for your playbook's main sections
Create cards for sub-topic content within each section
Add images and bite-sized text to cards for easy reference
Add links to sales content material (which can be stored anywhere)
Once your Flipdeck decks and cards are built, it's easy to keep them up-to-date with new resources and product/service offerings. Users get notified about any new/updated content.
Share your playbook content
With Flipdeck, you can easily bring your sales and marketing teams together by inviting users to join your account. Once they join, they'll have the latest and greatest content right at their fingertips — accessible anywhere with an internet connection.
Users can easily send cards to customers and prospects via email — or create a collection of targeted content cards and send a link via LinkedIn messaging, Zoom, or Microsoft Teams.
See what content people engage with
With Flipdeck, you don't have to guess what's working and what's not. Use the analytics dashboard for answers to the following questions:
Who's using our playbook?
Which users engaged with which content?
What content is being used most? What content is being used least?
And more!
Need any help creating your playbook? Let us know. We'd be happy to help you get up and running.
Create an account and let the results speak for themselves.
---
Don't have a Flipdeck account? Create an account and try Flipdeck free.
Learn more about Flipdeck Accounts & Pricing Options.
Have questions? We're happy to help! Email us at \u0069\u006e\u0066\u006f\u0040\u0066\u006c\u0069\u0070\u0064\u0065\u0063\u006b\u002e\u0063\u006f\u006d.