Is your existing pdf playbook struggling to deliver?
You've probably spent a ton of energy on...
Analyzing markets, trends, and customer pain points
Assessing the competition
Determining strengths, weaknesses, opportunities, and threats throughout the sales cycle
Collecting all that information into a playbook that is supposed to guide your sales team to repeatable success
But... is the resulting playbook packed so full of knowledge and guidance that sales reps don't want to read it — let alone use it in their selling process?
Is it a pain to keep the playbook pdf up to date with all the changes that occur, forcing your marketing team to daily distribute updated plays to your sales team?
It's time for a pivot on your existing sales and marketing playbook. Ditch the thick pdf playbook with the multi-page index and replace it with a living document your direct sales teams and dealer sales reps will actually want to use. If you need ideas or don't know where to start, we've got you covered.
3 keys to Digital Playbook success
The sales playbook creation process doesn't have to be painful. Follow these 3 keys for a playbook that works for you throughout the sales cycle.
Have a plan
Provide simple / visual online delivery
Generate insight for improvement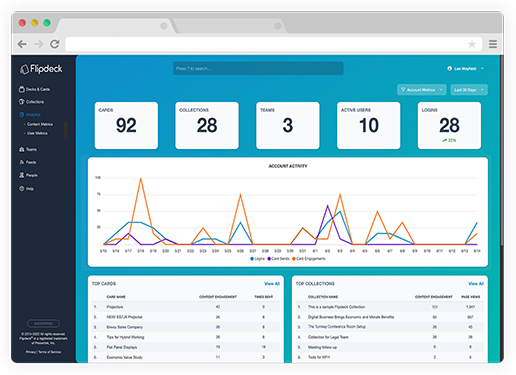 Success key #3: Generate insight for improvement
When the content you're sharing is effective, it's much easier to meet your sales goals by working smarter (and not harder). Know which content is working — and which isn't — to save time, save resources, improve the selling process, and make more effective strategy decisions for content going forward.
Flipdeck takes out the guesswork with our analytics dashboard, which puts answers to the following questions at your fingertips:
Who's using our playbook?
Which users engaged with which content?
What content is being used most? What content is being used least?
And more!
Flipdeck Full View Analytics makes it easy to see which content has been sent by each user, who's engaging with it, what links are being clicked, and more. With the right knowledge at your fingertips, you're equipped to measure key performance indicators, assess your sales strategy, and see if new salespeople may need some extra help.
Use these digital playbook examples to create your own sales playbook — tailored to the needs of your sales team
Flipdeck is a user-friendly, cost-effective, web-based software tool that makes it easy for sales reps to organize and share existing materials. Flipdeck is great for individuals, teams, departments, or companies. Organizing links to online content on visual Flipdeck cards helps bring the entire team together, so everyone can quickly find, access, and share playbook content with those who need it.
Here are some sales playbook examples to get you started. Then you can build your own playbook using Flipdeck.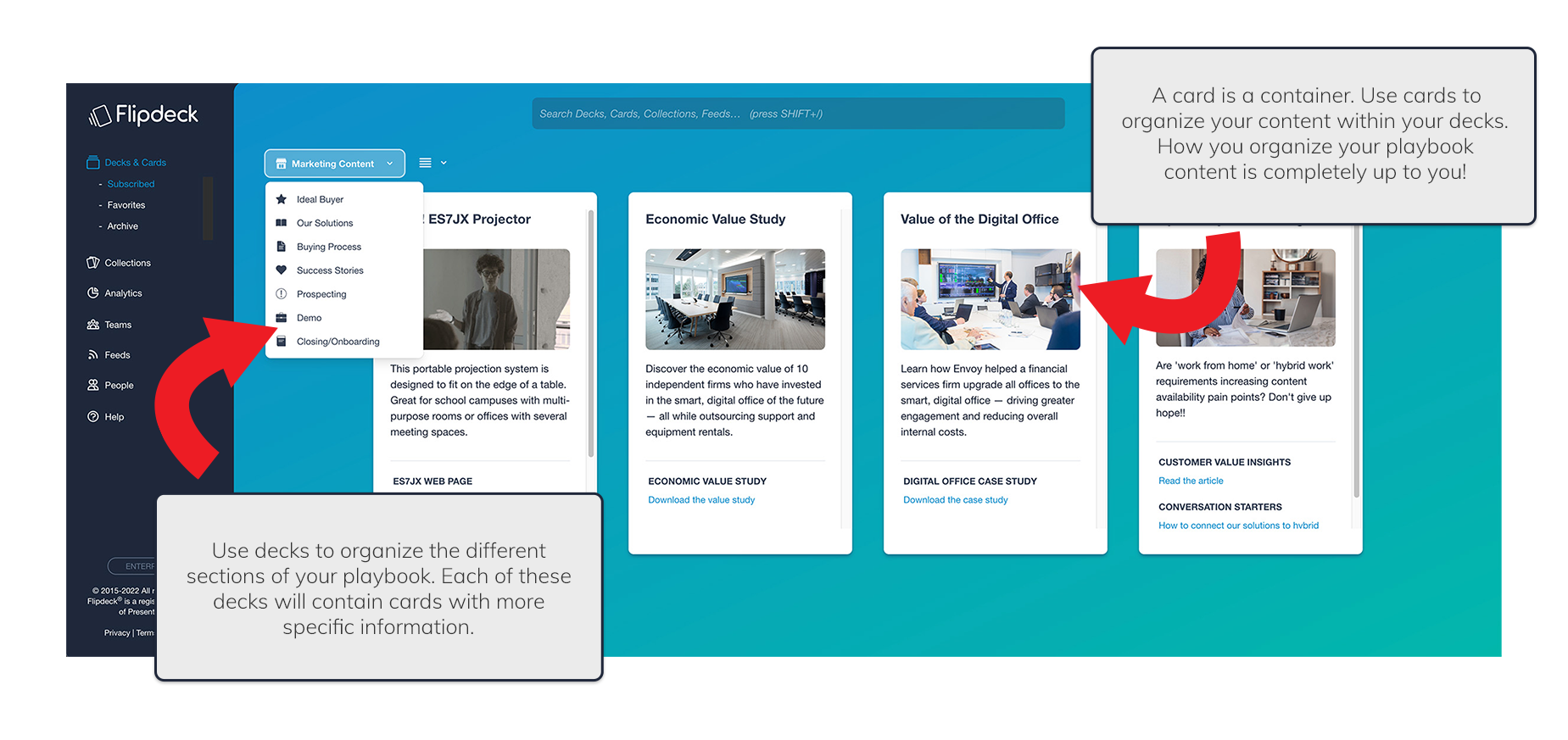 Organize content in decks focused on...
Solutions (what you bring to the party)
Marketing Content (marketing campaigns, resources, and talking points that support selling efforts)
Ideal Buyer (demonstrating the good fit between customer pain points and how your solutions can help)
Prospecting (how sales reps can find or qualify your ideal buyer)
Buying Process (how each ideal buyer goes through the purchasing process)
Success Stories (real life examples that show you can address pain points and deliver what the buyer is looking for)
Personalization (configuring / tweaking your optimum offering and marketing messaging)
Demos (providing value to the buyer)
Dealing with Common Objections / Alternatives (help with moving deals forward for qualified leads)
Closing / On Boarding (closing deals and completing the customer journey)
Training Materials (getting new hires up to speed and introducing sales leaders to new offerings)
Once your Flipdeck decks and cards are built, it's easy to keep them up-to-date so everyone stays on the same page. Users get notified about any new/updated content. You can also can easily send cards to customers and prospects via email — or create a Flipdeck Collection of targeted content cards and send a link via LinkedIn messaging, Zoom, Microsoft Teams, text messaging, social media, and more.