5 Reasons to Introduce a NEW Digital Playbook for Sales Kickoff 2024!
It's time to ditch the thick pdf playbook with the multi-page index and replace it with a living document your sales teams will actually want to use.
Here are 5 reasons to empower your sales leaders, new reps, and your entire organization with a new digital playbook for Sales Kickoff 2024:
#1: Sales is overloaded with too much content
Did you know? According to Forrester Research1...
62% of business buyers report that vendors give them too much content, most of which is useless to them.
2/3 of sellers spend up to 10 hours a week modifying marketing content before using it in front of customers.
A company with $1 billion or more in annual sales revenue can waste around $1 million a year creating content that never sees the light of day, because sellers won't use it.
Trade information overload for a "less is more" approach with a playbook that prioritizes the latest and greatest information.
#2: Sales is short on time
Your sales teams are busy. They don't have time to slog through an over-engineered PDF or PPT file looking for something that'll stick, and they especially don't have time to reinvent the wheel every time they want to personalize information for a buyer.
Keep it simple with a digital playbook that puts bite-sized information at Sales' fingertips — one that's customizable, trackable, and easy for reps to navigate.
#3: Disparate approaches muddle your messaging
When Sales, Marketing, and Customer Service aren't on the same page, everyone feels the pain.
A consistent, user-friendly, "always on" digital playbook creates a strong foundation for your entire organization. By providing clear and concise information all in one place, you can create better alignment in strategy, processes, and great buyer experiences.
#4: New reps need to be set up for success
We've all been in a new situation where we felt completely overwhelmed, and Sales is no exception. Dumping an avalanche of information on new reps hoping they'll "figure it out" only inhibits their potential.
Get new sales reps up to speed quickly with an intuitive, interactive guide they can return to again and again — one that will help them acclimate AND learn from star performers.
#5: Falling back on "the way we've always done it" doesn't work anymore
Whether you're looking for buy-in from Sales or working on attracting your perfect customer, getting their attention is half the battle. So why do the same old thing — the way it's always been done — year after year?
Sales Kickoff 2024 represents a pivotal new year. Reignite interest and jump-start engagement by giving your direct and channel sellers something new — so they can get excited about sharing it with your customers.
Get started with our free gift to you: the Playbook Planning Kit
If your current playbook isn't serving you well, or if you don't have one at all, we're here to help! Our Playbook Planning Kit is ready to walk you through early planning steps, jump-start content ideas, and help you visualize what a bite-sized, intuitive, "always on" digital playbook can look like.
This FREE digital playbook planning kit includes:
Playbook Planning Worksheet and XL with 50+ section and sub-topic ideas
Sales Playbook Starter Template consisting of 20 common topics
Examples of what a bite-sized highly visual digital playbook can look like
And more!
Use these resources to feel confident creating a digital sales playbook your sales teams and dealer sales reps will actually want to use. And did we mention it's free?
GET THE FREE PLAYBOOK PLANNING KIT
Get inspired with these digital playbook examples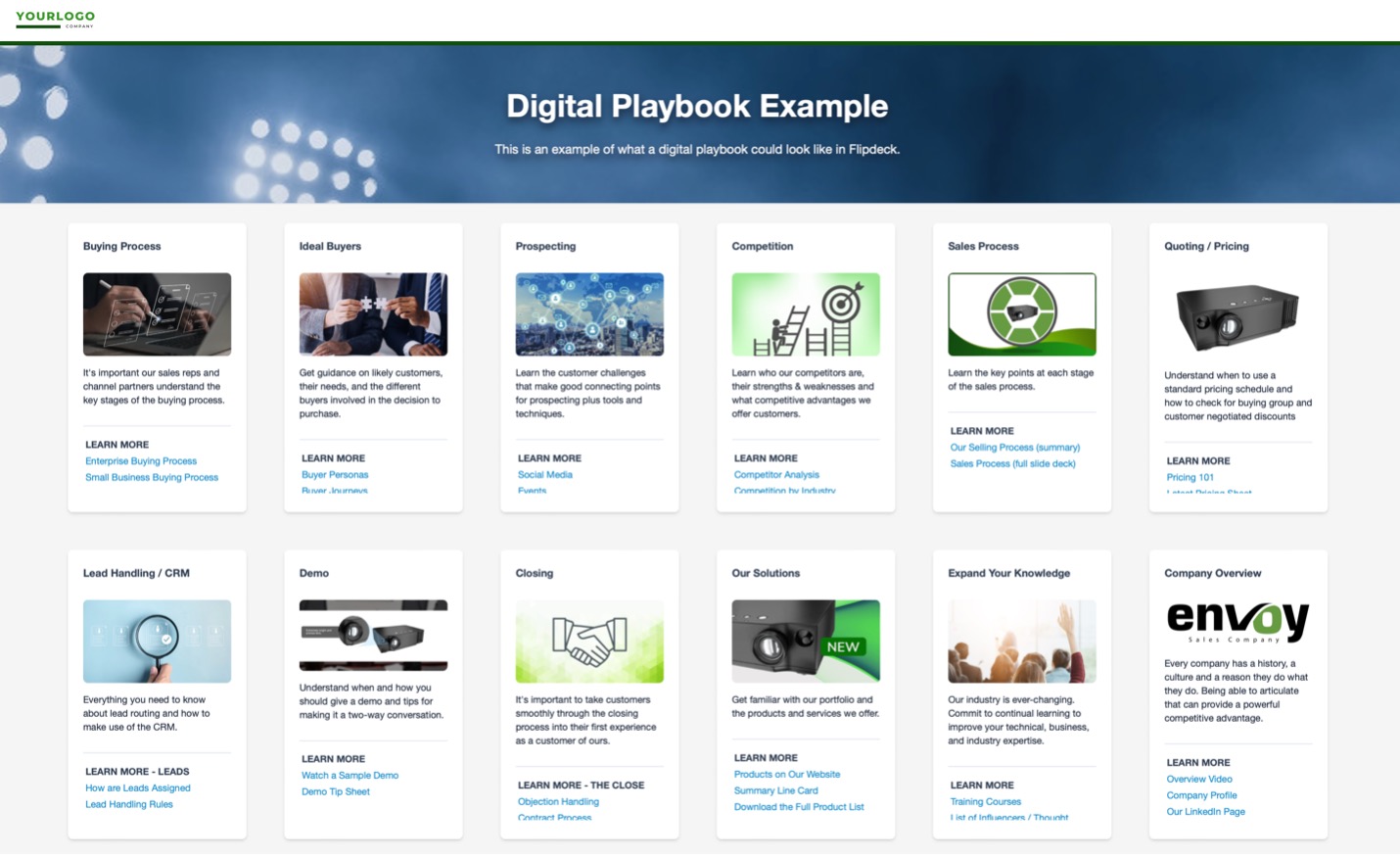 Want to see a digital playbook in action? Check out these examples for inspiration:
SIMPLE 1-PAGE PLAYBOOK WITH 20 TOPICS
NESTED MULTI-PAGE PLAYBOOK WITH 6 MAIN CATEGORIES
Flipdeck makes a great playbook
What is Flipdeck, you ask?
Flipdeck is a web-based SaaS solution that helps you organize and share your content with customers. Create cards that link to any content you like — complete with images, description text, and links to web pages, documents, or videos. There's no need to move the content from where it already lives. Then, you can quickly find and share that content with others.
We created Flipdeck to transform how your content is presented, so it's simple to deliver and enjoyable to consume — perfect for a digital playbook. With a Flipdeck digital playbook, you can:
Provide bite-sized information that makes it easy for your team to get the right guidance quickly.
Easily notify team members when content has been added or updated
Track playbook performance with helpful analytics
Learn how Flipdeck works in this video: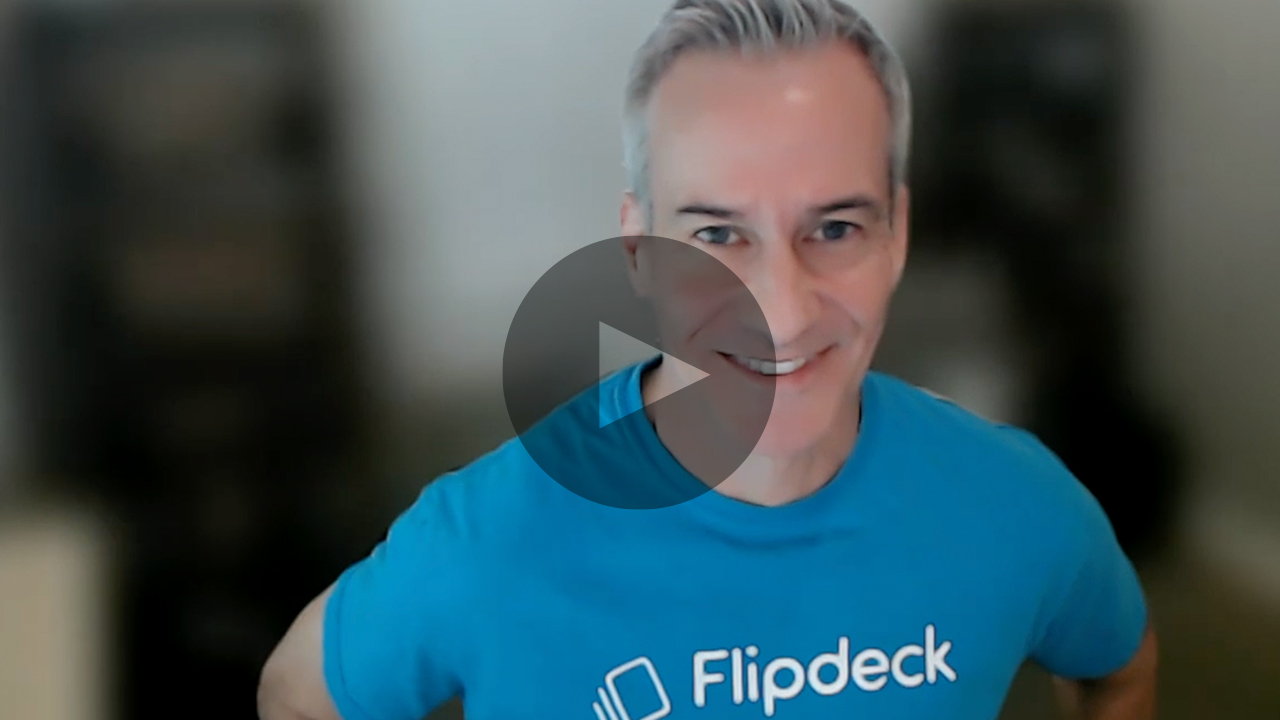 Contact Us to request a Flipdeck account with our playbook template pre-loaded.
Start creating your NEW digital playbook
With Flipdeck as the visual front-end for your existing sales content, it's easy to empower your team with a customizable, intuitive, living playbook that's always at their fingertips.
Create an account and let the results speak for themselves. Try Flipdeck FREE, no credit card required.
1 The Forrester Wave™: Sales Enablement Automation Platforms (Sept. 2018)
---
Learn more about Flipdeck Accounts & Pricing Options.
Have questions? We're happy to help! Email us at \u0069\u006e\u0066\u006f\u0040\u0066\u006c\u0069\u0070\u0064\u0065\u0063\u006b\u002e\u0063\u006f\u006d.