Simplify Digital Customer Engagement
With Flipdeck, you can visually organize your content and deliver it digitally to customers — with ease. Personalize the presentation in just a few clicks, and wow customers with Flipdeck Stories that communicate your big ideas. Providing relevant information online is essential for engagement, and the Flipdeck platform makes it simple to connect with your customers.
Enjoy these benefits with Flipdeck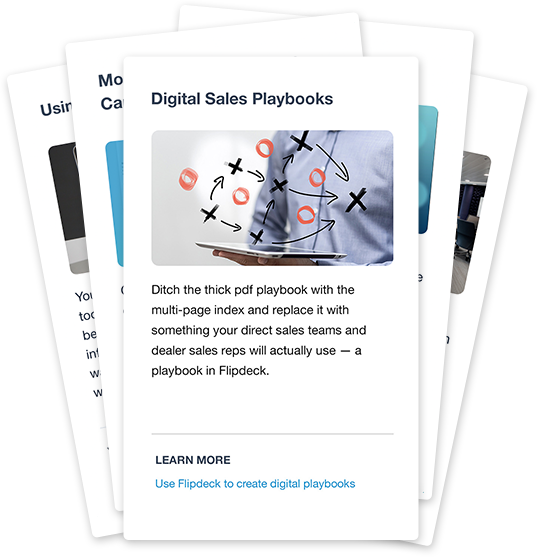 Share your content with Card Collections
Flipdeck is a web-based tool that makes it easy to find and share the blog post, presentation, article, web page, or video your customer needs in the moment. With Flipdeck, you can share content in a way that is enjoyable for both you and your customers.
You can pull together your Flipdeck cards into an online collection that you use over and over or tailor it for a specific company or person. Select the content you need and create a custom URL that you can send via social media, email, text, and more.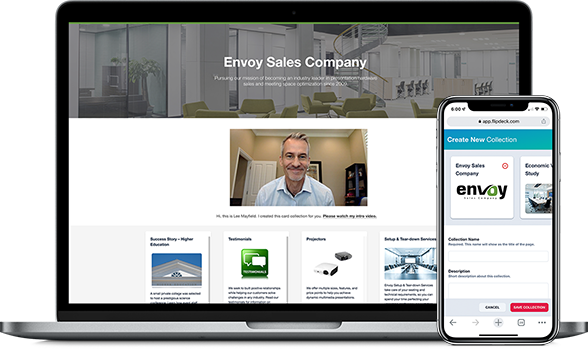 New Draw your audience in with Flipdeck Stories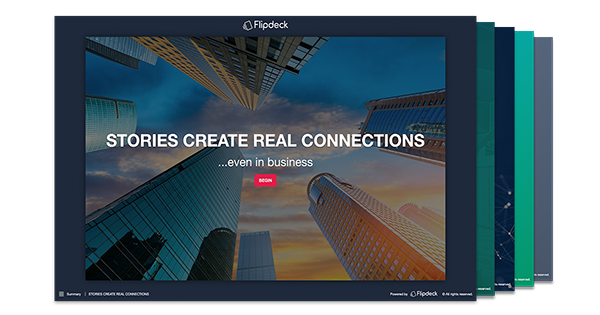 Instead of dragging your customers through slide after slide, form an emotional connection with your audience with big-picture digital storytelling. With Flipdeck Stories, it's easy to introduce key context while communicating your message in narrative form. Want to lighten the load of information you need to present to your audience? Flipdeck Stories will keep your audience engaged with pictures, video, infographics, and more. You can even add interactive Flipdeck cards with direct links to your content, and easily customize your Story to fit your needs.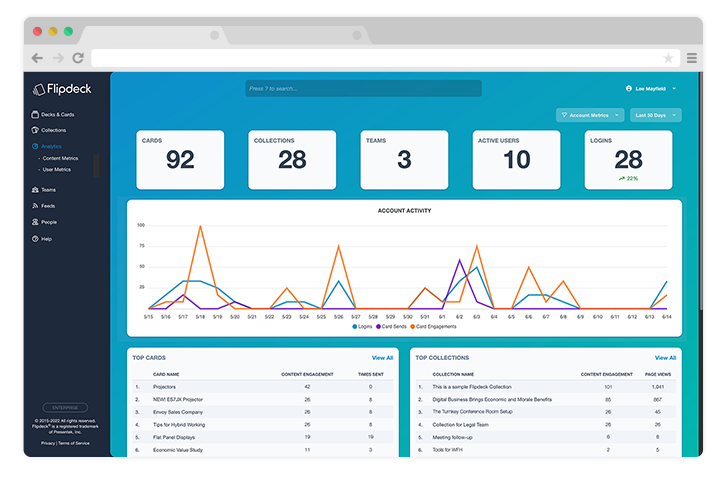 Learn from analytics to improve content marketing
Make sure your team is sharing content that works. With Flipdeck analytics, account owners can view important information right from the dashboard.
See which content is being shared and which is not
Determine which content cards see the most engagement
View if an email recipient opened the email or clicked any card links
Know which Card Collections generate the most views
See the teams and users that are most active
When you know what's working — and what isn't — you can make more effective strategy decisions for content going forward.