Inform and Delight Your Audience with Flipdeck
You have great digital content that can inform, educate, train, and motivate. Your audience has specific needs and wants access to specific information quickly and efficiently. That's why we created Flipdeck, which uses visual cards to organize and deliver just the right content in seconds via email or a curated landing page. Give your audience exactly what they want — and make yourself and your company look good.
Anyone can use Flipdeck
Flipdeck is great for individuals, teams, departments or companies — whether your content is meant for internal teams, external customers, channel partners, or anyone else. By organizing links to online content on visual Flipdeck cards, everyone can quickly find, access, and share content with those who need it. Best of all you don't have to move your content... you just link to it. Here are a few of the ways customers use Flipdeck.
Flipdeck is versatile. Where do you need to make it simple for your people to access and share content? Request a demo to learn more.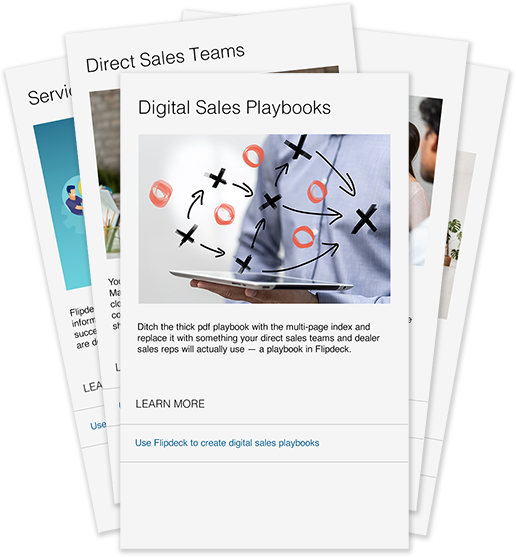 Enjoy these benefits with Flipdeck
People who use your content don't waste time searching for it
Share your content from any device that can access an internet browser
Whether you are meeting in person or working virtually, recipients get the content they need fast
You can stop wasting money on content that isn't being used
Unlock more return on your content investment
You can solve a huge problem with a cost-effective, low-risk solution
Share your content with Card Collections
Flipdeck is a web-based tool that makes it easy to find and share the blog post, presentation, article, web page, or video your customer needs in the moment. With Flipdeck, you can share content in a way that is enjoyable for both you and your customers.
You can pull together your Flipdeck cards into an online collection that you use over and over or tailor it for a specific company or person. Select the content you need and create a custom URL that you can send via social media, email, text, and more.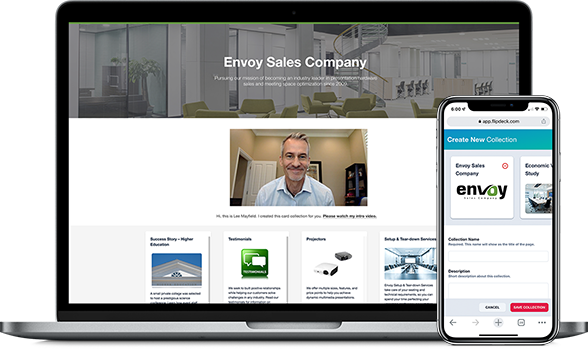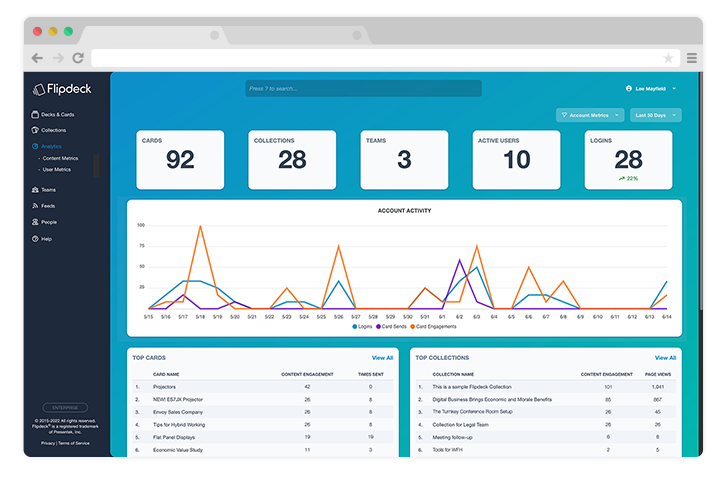 Learn from analytics to improve content marketing
Make sure your team is sharing content that works. With Flipdeck analytics, account owners can view important information right from the dashboard.
See which content is being shared and which is not
Determine which content cards see the most engagement
View if an email recipient opened the email or clicked any card links
Know which Card Collections generate the most views
See the teams and users that are most active
When you know what's working — and what isn't — you can make more effective strategy decisions for content going forward.
Flipdeck user feedback
"As the Director of Sales, creating a sales playbook is at the core of efficient sales training for my team. I've created playbooks before and I wanted something digital, simple, and visual. Flipdeck provided me that capability since it was extremely easy to setup and presents information in a clean and organized way using Flipdeck Cards. My reps are able to quickly reference exactly what I need them to know and perform in a variety of selling scenarios and stages. Our digital sales playbook in Flipdeck helps the entire team succeed."
— Rob Southworth, Director of Sales, RCReports