Simple Content Organizer for Reps
Organize links to content on cards & decks. Flipdeck is visual and intuitive, so everyone can quickly find and deliver the right content in a way that's enjoyable for prospects.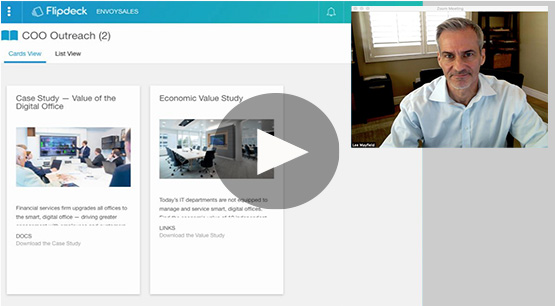 Flipdeck uses visual cards
Cards & decks are a familiar concept that is easy to understand and navigate. Create cards that link to any content you like — complete with an image, text, and links to web pages, documents, or videos. Best of all, you don't have to move the content… just link to it. Use your Flipdeck cards over and over to save time finding and emailing content.
Digital Business Card
Embrace virtual selling and let customers get to know you
Product info
Promote your latest products with ease.
Service contract
Send contract PDFs to those that need them — instantly.
Promotions
Keep your sales team and customers informed about special rewards and incentives.
Company profile/catalog
Share where you've come from and why you do what you do.
Case study
Provide industry-specific case studies and meet customers where they are.
Testimonials
Share your past successes with testimonials from satisfied customers.
Price sheet
Impress potential customers with a quick response to their pricing questions.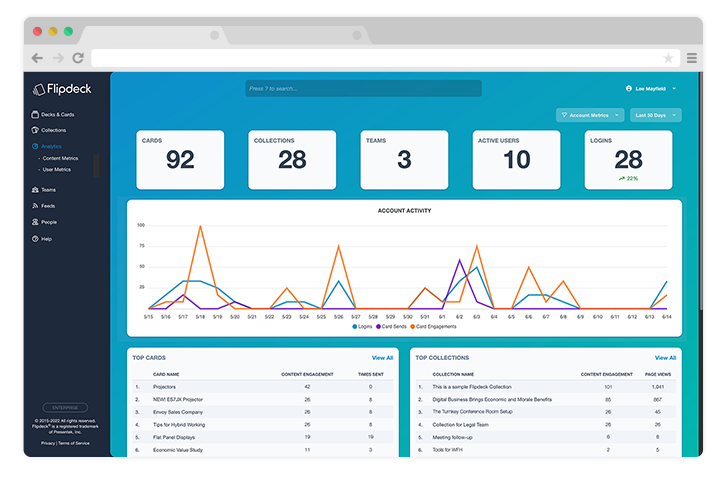 Learn from analytics
Dashboard shows you which content is working and which is not
You'll know the top cards accessed and shared by your teams
Identify the "power users" from a built-in leader board
See which teams or regions are most active and who needs coaching
You'll have metrics on cards opened and what links recipients clicked