Flipdeck is purpose-built for sales content
We designed Flipdeck to make it easy to share the right content with buyers — and make your business look good. Our simple cards & decks approach helps ensure that your sales team can quickly find and deliver content that is customized to your buyers, driving higher engagement and accelerating the sales cycle.
Why Flipdeck?
Visually consistent structure that's easy to navigate
No need to move content from its existing location or build an underlying repository
Gives marketing insights and control to push the right properly branded content
Adds value to Direct sales, Channel marketing, and Inside sales
Easy to use, fast to start, and low cost
Organize content into cards & decks
Flipdeck is designed around the idea of trading card decks — which have a visually consistent structure that makes it easy to quickly find a card at-a-glance.
Use Flipdeck to send just the right link
With a Flipdeck account, you can create cards for any content you want to share in our easy-to-use web application. Here are some ideas of what you can share with your customers using your Flipdeck account.
Product Spec Page
Video
Price Sheet
Brochure
Testimonials
Company Profile
Credit Application
Promotions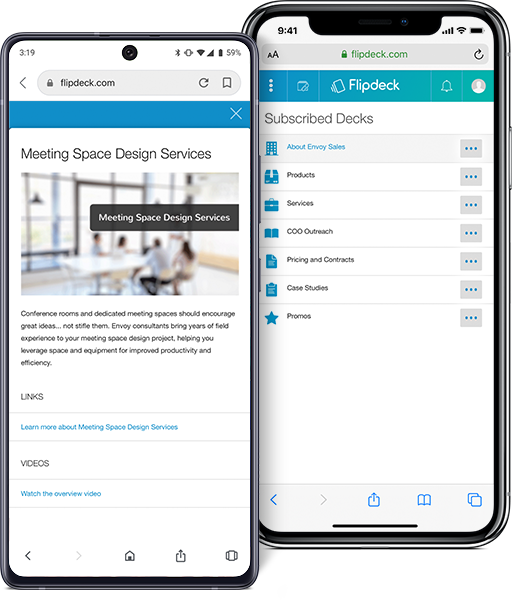 Use cards to share any content you like
Any information you like can be put on a card — complete with an image, text, and links to web pages, documents, or videos. Then, use these cards over and over to send people the information they need. Share your business card, case studies, white papers, promotions, event information, freelance services, and more!
Product info
Promote your latest products with ease.
Service contract
Send contract PDFs to those that need them — instantly.
Month-end promotion
Keep your sales team and customers informed about special rewards and incentives.
Consulting info
Inform prospects how you leverage your expertise to help clients meet their goals.
Business card
Market yourself more effectively and follow up on conversations.
Company history
Share where you've come from and why you do what you do.
Case study
Provide industry-specific case studies and meet customers where they are.
Testimonials
Share your past successes with testimonials from satisfied customers.
Price sheet
Impress potential customers with a quick response to their pricing questions.
Freelance services
Generate interest and share your business information.
Booking information
Promote your artistic talents and easily answer gig inquiries.
Special offers
Let current and potential customers know about promotions and special deals.
Feed your team
Manage decks, cards, users, and more from one centralized administration platform.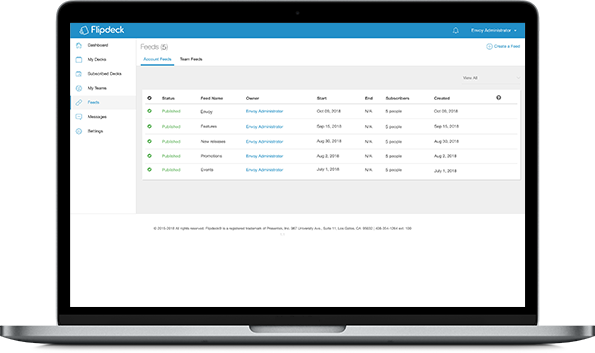 Content feeds
Save time by delivering information via centrally set content feeds. Team members can be confident that they always have the latest information, because new content cards show up in their feeds automatically.
More features

Send messages
Send messages — like announcements or promos — to team members in your account.

Manage users
Organize users into teams to help ensure they only get the info that applies to their sales focus.
Get analytics
Gain "at-a-glance" insight into card usage, active and expired feeds, top users, and more.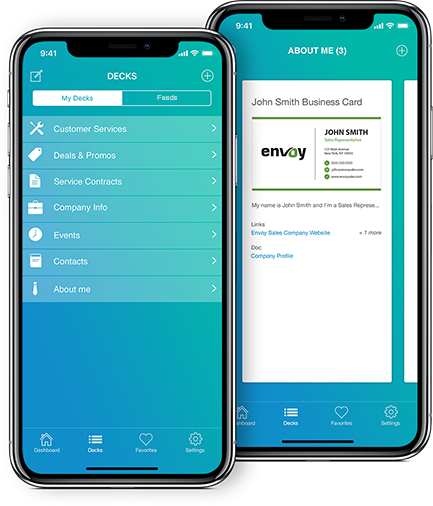 Connect to the Flipdeck iOS app
Need to access decks and cards from your content feeds while on the go? You can connect the Flipdeck iOS app with any type of Flipdeck account*. Send card contents from your mobile phone by text message or email. Download cards for offline viewing. Enjoy a native iPhone app user experience for fast and fluid functionality. Available for iPhone® on iOS 10+.
*Flipdeck iOS connector available via account add-on