Here's what others have said about Flipdeck

"As the Director of Sales, creating a sales playbook is at the core of efficient sales training for my team. I've created playbooks before and I wanted something digital, simple, and visual. Flipdeck provided me that capability since it was extremely easy to setup and presents information in a clean and organized way using Flipdeck Cards. My reps are able to quickly reference exactly what I need them to know and perform in a variety of selling scenarios and stages. Our digital sales playbook in Flipdeck helps the entire team succeed."
Rob Southworth
Director of Sales
RCReports

I like how all the information I want to share is in one place — no hunting and pecking around.
C. Whipple
Ricoh USA

A clever and innovative tool.
Steven Wright
Vendor Neutral

I am excited to be using Flipdeck since I send so much of the same information out and I'm always hunting it down and attaching to e-mail!!!
M. Stone


I am getting better at Flipdeck and I love it!
Ron Bell
Fittle
(A Xerox Company)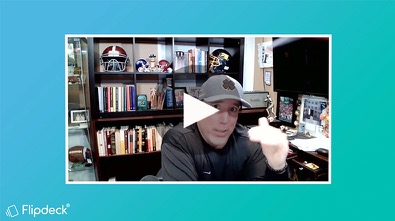 "Flipdeck is a must-have digital tool for storytellers. Storytelling is an integral part of the way that humans communicate. Digital storytelling uses digital technology to tell a story. As a Leader today you need to get your message across. Flipdeck is one of those 'must have' tools to have in your tool bag to execute well in Digital Storytelling today!"
— Coach Eric Stavola
Eric is an IT executive and thought leader, a prolific content publisher, and a Partner Executive with Ricoh USA for Cloud and IT Services. He is passionate about bringing football principles to life for individuals and leaders in business and the search for a better playbook brought him to Flipdeck.
Meet Flipdeck® Innovator — Eric Stavola or learn more on his website ericstavola.com.
Watch Eric's microcourse on digital storytelling featuring Flipdeck.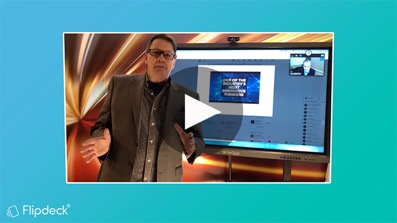 "Folks, we're working on this special project for IT service providers and through that work I discovered something. I discovered that Flipdeck is awesome... because I'm using it to promote The End of The Day With Ray and my new venue Ray's Café."
—Ray Stasieczko
Host of The End of the Day With Ray
Ray Stasieczko, a passionate Flipdeck user and host of The End of The Day with Ray, is using Flipdeck to manage and send content about his new services.
Watch The End Of The Day With Ray on Youtube.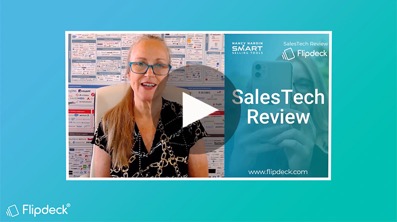 "The beauty of Flipdeck is its minimalist approach. The content clutter is eliminated for both the salesperson and the buyer. Simplicity and clarity are the cornerstones of good design."
—Nancy Nardin
President, Smart Selling Tools