Flipdeck is perfect for:
Introducing your company
Presenting your capabilities
Customer proposals
Product launches
Training new people
And so much more!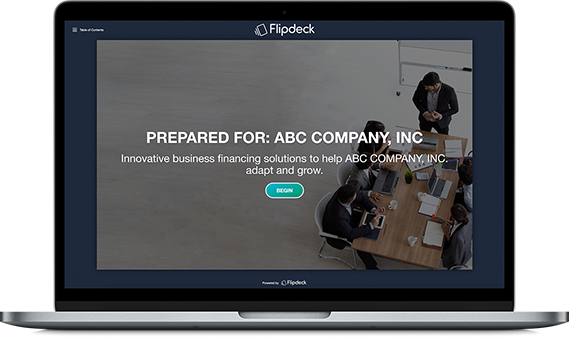 What is digital storytelling?
At its base, digital storytelling is the process of sharing your thoughts, ideas, products, and services through the use of online tools and media. But why use it? Why is it important?
Have you ever been dragged through a bloated presentation and thought, "I don't need all of this right now… I just need the big picture of how it applies to me"?
Have you ever spent valuable time creating intricate slides — only for them to be rushed through when the client has limited time to review?
We've all been there. Today's customers are especially turned off by information overload, and spending time tweaking slide animations doesn't have the return it used to. Don't waste time trying to push every piece of information you have at your customer, hoping something will stick. Instead, choose storytelling.
When you present information by telling a story, you introduce a key ingredient: context for your content. It's not just data or charts and graphs, and it's much more than wordy slide decks made with complicated presentation software. There's a reason for the data. There's a big idea, an arc, and a solution to a problem — and that's what's going to draw people into your content.
Digital storytelling brings your narrative to life by making it attractive, interactive, and shareable. Flexible presentation tools give you the option to guide customers through your story, or you can send them a personalized link to explore at their own pace. And when your storytelling platform has analytics built right in, you can easily track how well your content is performing.
Why Flipdeck Stories?
With Flipdeck, you have everything you need in a digital storytelling platform — and nothing you don't — all at your fingertips. Flipdeck Stories makes it easy to communicate your message to your audience in narrative form, build anticipation, entice the reader to keep reading, and track how well your message is performing. And because it's an online presentation tool, you can create, share, and access stories via web browser anytime, anywhere.
Simplicity is everything
We designed Flipdeck to address the challenges we experienced firsthand when it came to organizing and sharing content. The secret is simplicity. Less is more, and clean is better than cluttered.
Shorter is better
Instead of dragging your customers through slide after slide, try Flipdeck's big picture approach to digital storytelling. Flipdeck makes it easy to communicate your message in a way that's succinct and visual. Your audience will appreciate the lighter load.
Relevance is mandatory
Your audience wants information that's relevant to them. Give them what they want, fast, with modular content that you can use as is or tune to a particular audience. When you make it convenient for recipients to learn more, book a demo, get in touch with you, etc., they'll actually follow through.
Personalization gives you an edge
Your customers are looking for personalized engagement. You can copy an existing Flipdeck story and modify it for a specific customer in seconds. This could be as simple as changing the title panel — or you can tailor your story based on customer interests, adjust the linked information you provide, etc.
Give the viewer control
Make it easy for your audience to learn more on topics of interest to them. Because Flipdeck Cards can link to any content you like, bring them into your digital stories to support your big idea. When your content is modular, you can quickly provide the perfect information for your audience.
Know what's working
With Flipdeck Analytics, you can see what's being shared, which content sees the most customer engagement, and more.