"Help! I'm Tired of Dragging Customers Through Slide After Slide."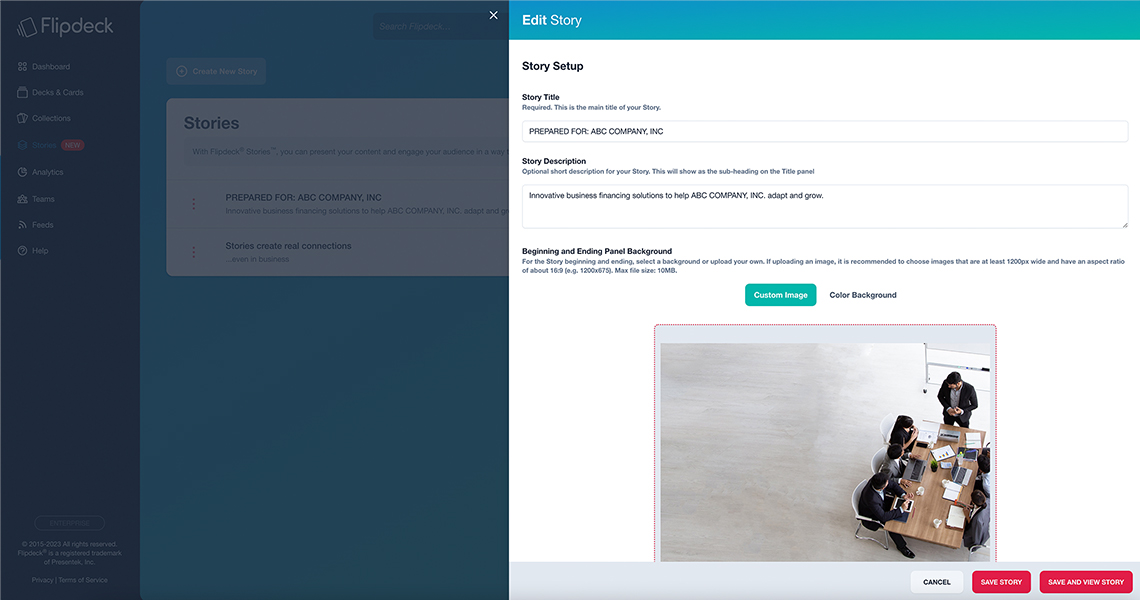 Looking for an alternative to PowerPoint?
Creative presentations are often a necessary tool for pitching your products and services to prospective customers. Presentation tools like PowerPoint are very popular, but they also bring some setbacks.
Instead of wasting time, money, and company resources creating boring slides from scratch — and getting frustrated over formatting issues — Flipdeck Stories can help you drive customer engagement fast and easy.
Why Flipdeck Stories?
Legacy presentation tools make it all-too-easy to overload your audience with too much information. We designed Flipdeck Stories to make it simple to present your content as a compelling, less-is-more narrative — without having to spend valuable time on excessive formatting.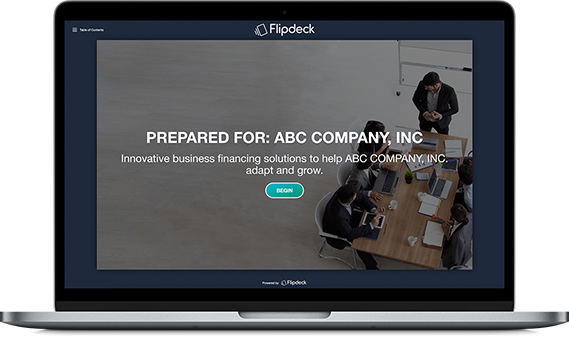 "When you're telling a story, you're introducing a key ingredient — context for your content. It's not just data or charts and graphs, and it's much more than wordy slide decks. With storytelling, there's a reason for the data. There's a big idea, an arc, and a solution to a problem. That's what's going to draw people into your content."
- Lee Mayfield, Founder of Flipdeck
Flipdeck Stories are...
User friendly
You don't have to be a designer to create a Flipdeck Story. Anyone can do it! Our user-friendly template helps you create simple, visual panels that are easy to consume. Panels can contain text, images, links to videos (from YouTube and other services), infographics, and more.
Low stress
No need to spend valuable time figuring out formatting. Simple font formatting and color options help reduce overwhelm, while visually interesting movements are automatically generated — so you can create a ready-to-present digital story in minutes with low effort.
Simple and interactive
Communicate a big idea, an arc, and a solution to a problem with just a few clicks. Easily direct viewers to more information by adding Flipdeck Cards and Collections with direct links to key content. No need to include everything that might be relevant in the presentation itself.
Easily personalized
Send personalized content without having to start from scratch. Stories can be duplicated and edited for different audiences without hassle.
Built for follow-ups
Enable presentation follow ups by sharing a link to your Flipdeck Story. Unlike other slide presentation tools, Flipdeck provides a URL that can be sent directly to a client with all the information they need to move forward. This URL can also be linked on social media or from your email or website.
Trackable
For even more convenience, Flipdeck Analytics automatically tracks which content is being used, so you'll know what is working and what is not. No manual data reporting required.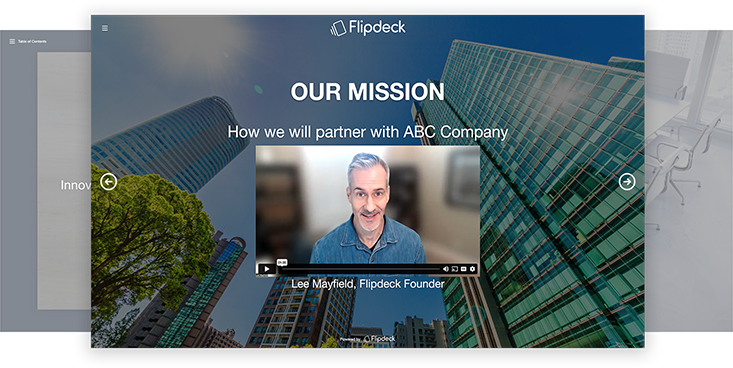 See Stories in action
Flipdeck Stories shine in all kinds of use cases. Here are some examples of ways to use Flipdeck Stories to...
New to Flipdeck?
Flipdeck is a web-based SaaS solution that helps you organize and share your content with customers. Create cards that link to any content you like — complete with images, description text, and links to web pages, documents, or videos. There's no need to move the content from where it already lives. Then, you can quickly find and share that content with others.
We designed Flipdeck to make it simple for sales channels, kickoff presenters, dealer networks, and marketing professionals to empower personal connections and add value with the right content in the right moment. So whether your company is big or small, Flipdeck has a solution for you.
You can even use Flipdeck to create your own digital sales playbook. With Flipdeck as the visual front-end for your existing sales content, it's easy to empower your team with an intuitive, customizable, living document that's always at their fingertips.
Flipdeck is the presentation software you have been looking for. Create an account and let the results speak for themselves. Try Flipdeck FREE, no credit card required.
---
Learn more about Flipdeck Accounts & Pricing Options.
Add Flipdeck Stories to your account.
Have questions? We're happy to help! Email us at \u0069\u006e\u0066\u006f\u0040\u0066\u006c\u0069\u0070\u0064\u0065\u0063\u006b\u002e\u0063\u006f\u006d.