Integrate Flipdeck with Popular Cloud Services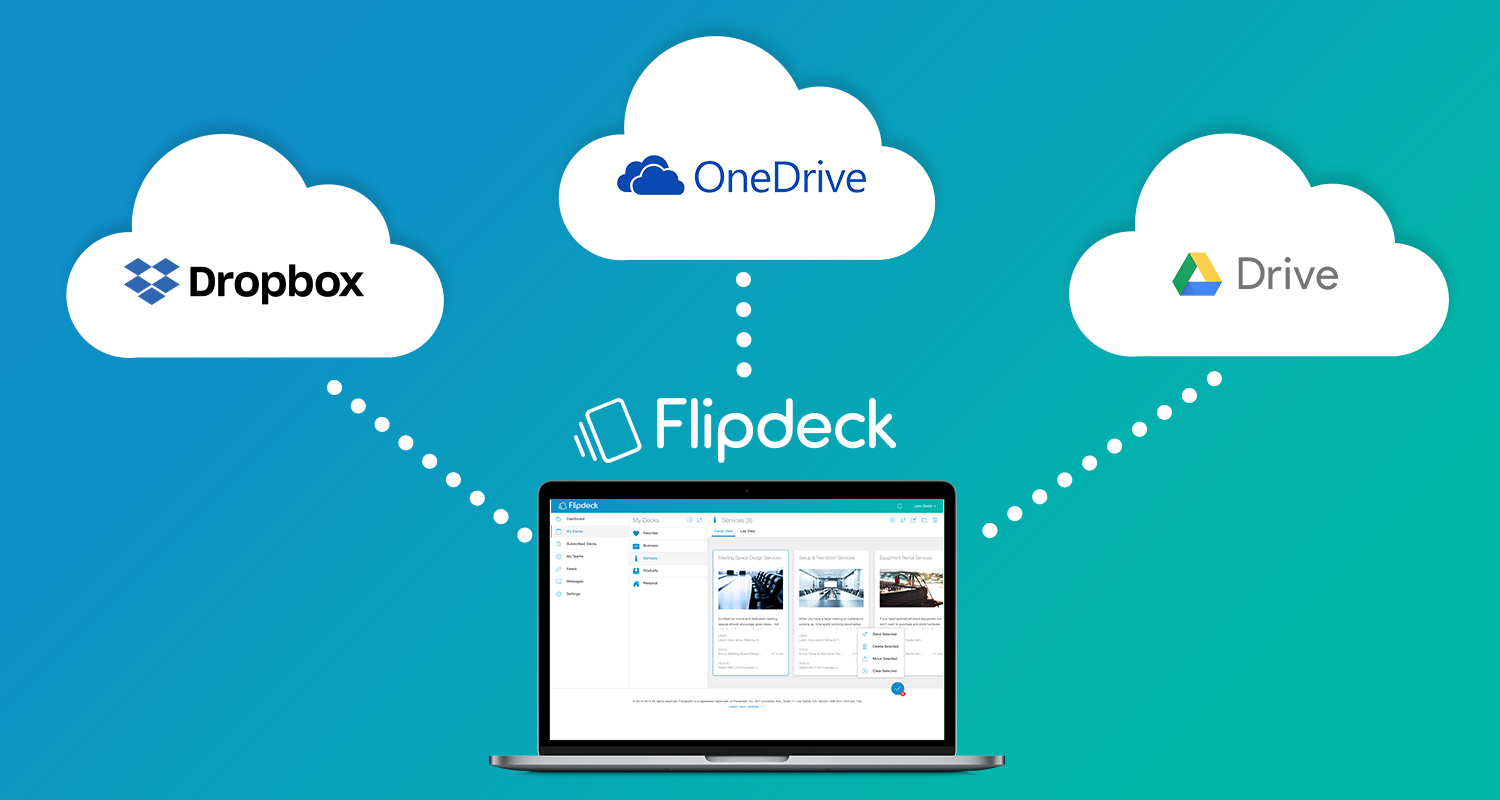 We're excited to share our newest feature with you! Flipdeck provides simple, user-friendly integration with Dropbox™, Microsoft® OneDrive®, and Google Drive™ accounts.
Linking to cloud storage documents is easier than ever
You can link cloud storage files to a Flipdeck card in just a few clicks. Simply choose your cloud storage service from the pop-up menu within Flipdeck, authenticate (if you haven't already done so), and choose your file. Flipdeck will automatically populate the URL field and give you the opportunity to re-name your link if you wish — all without ever needing to leave your account!
Gain a cool visual front-end for the cloud content you share most
Because Flipdeck cards provide visually consistent packaging for your sales content, you can easily mix & match links from multiple cloud storage services to attract your customer and advance the sale. Instead of sharing individual links through the cloud service, Flipdeck cards let you share multiple stored documents at once with eye-catching images and engaging text.
Enjoy sales enablement on a shoestring budget
Flipdeck is designed to enable your sales team without getting in your way. Now it's easy to connect your Flipdeck account with the cloud services you use most. We hope this functionality makes it even easier to prepare and share Flipdeck cards with your key information — so you can focus on giving your customers and prospects exactly what they need, when they need it.
Create an account and let the results speak for themselves.
---
Don't have a Flipdeck account? Create an account and try Flipdeck free.
Learn more about Flipdeck Accounts & Pricing Options.
Have questions? We're happy to help! Email us at \u0069\u006e\u0066\u006f\u0040\u0066\u006c\u0069\u0070\u0064\u0065\u0063\u006b\u002e\u0063\u006f\u006d.
The following are registered trademarks, trademarks or service marks: Flipdeck® is a trademark of Presentek, Inc. OneDrive® is a trademark of Microsoft Corporation. Dropbox™ is a trademark of Dropbox, Inc. Google Drive™ is a trademark of Google Inc. Use of this trademark is subject to Google Permissions.