Try Flipdeck for Free
Use Flipdeck free for 15 days, no credit card required. After 15 days, you can choose to continue with a plan that works for you and your team.
Create an account to start your free trial.
Have any questions? Send us an email or call us at (408) 354-6280.
How is Flipdeck different?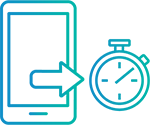 Share the right content quickly
Organize links to content on cards & decks. Save time finding content and distribute information quickly and easily by email, or by sending a link to specifically chosen content. With Flipdeck you can be responsive and prepared even when selling virtually.

Simple & visual
Flipdeck is visual and intuitive. Cards & decks are a familiar concept that is easy to understand and navigate so you can arm your team with a simple way to browse and choose content.

Cost effective & low risk
Sales enablement and content management solutions can be expensive. There can also be the hidden cost of having to move all the content. Flipdeck comes with a low cost of entry, and you can leave your content right where it is.
We think you'll love Flipdeck too!
"As the Director of Sales, creating a sales playbook is at the core of efficient sales training for my team. I've created playbooks before and I wanted something digital, simple, and visual. Flipdeck provided me that capability since it was extremely easy to setup and presents information in a clean and organized way using Flipdeck Cards. My reps are able to quickly reference exactly what I need them to know and perform in a variety of selling scenarios and stages. Our digital sales playbook in Flipdeck helps the entire team succeed."
— Rob Southworth, Director of Sales, RCReports
Rob Southworth
Director of Sales
RCReports
"Flipdeck is a must-have digital tool for storytellers. Storytelling is an integral part of the way that humans communicate. Digital storytelling uses digital technology to tell a story. As a Leader today you need to get your message across. Flipdeck is one of those 'must have' tools to have in your tool bag to execute well in Digital Storytelling today!"
— Coach Eric Stavola
Coach Eric Stavola
"I was introduced to Flipdeck by an EOS Implementer colleague. I liked the concept of using visual Flipdeck cards to share information with my clients, but I wanted something simple that I could just start using. I was up and running the same day I subscribed to Flipdeck. Now I can quickly and professionally provide my clients with content about EOS, information about me and share tools and resources to help leaders strengthen their businesses. I can personalize Flipdeck Card Collections for specific clients or specific issues and it's very easy for my clients to consume my information and take action."
— Jennifer Vazquez, EOS Implementer
Jennifer Vazquez
EOS Implementer
"The beauty of Flipdeck is its minimalist approach. The content clutter is eliminated for both the salesperson and the buyer. Simplicity and clarity are the cornerstones of good design."
— Nancy Nardin, President, Smart Selling Tools
Nancy Nardin
President
Smart Selling Tools
Hear from other Flipdeck users