Get More Out of Your Sales Teams, Channels, and Marketing Efforts
Flipdeck is built for sales content. Our simple cards & decks approach helps ensure that your sales team can quickly find and deliver the right content to your buyers at the right time. How is that different than what you are doing already?
With Flipdeck:
Your sellers don't waste time searching for or modifying what marketing sent them
Your customers get the information they need in real time, lessening the chance of sales stalling out
You'll know which marketing content is working and which is not
You won't waste money generating content that isn't working
Your sellers have the content they need in hand to move buyers to the close
Your product marketing team is free to do what they do best, instead of responding to content questions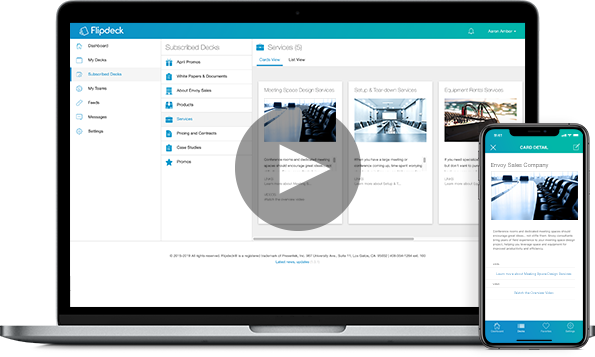 Why Flipdeck?
Cards & decks are a familiar concept that is easy to understand and navigate (think trading cards)
No extra work required to input data into some other system
Gives your marketing team insights and control to sharpen the focus on the customer
Makes your company look good in the eyes of the customer
Easy to use, fast start up, and low cost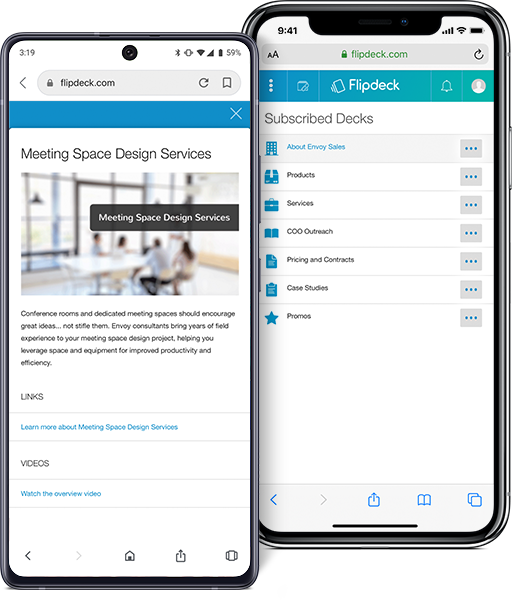 What's a Flipdeck card?
Any information you like can be put on a card — complete with an image, text, and links to web pages, documents, or videos. For example:
Product info
Promote your latest products with ease.
Service contract
Send contract PDFs to those that need them — instantly.
Promotions
Keep your sales team and customers informed about special rewards and incentives.
Business card
Market yourself more effectively and follow up on conversations.
Company profile/catalog
Share where you've come from and why you do what you do.
Case study
Provide industry-specific case studies and meet customers where they are.
Testimonials
Share your past successes with testimonials from satisfied customers.
Price sheet
Impress potential customers with a quick response to their pricing questions.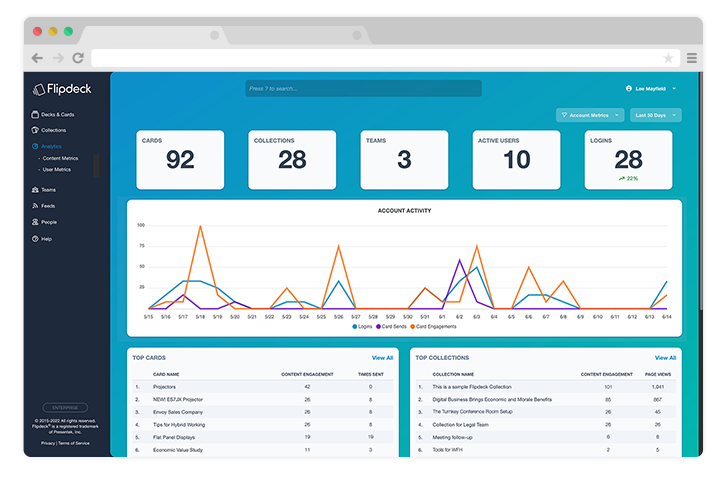 Flipdeck analytics
How do I know if it is working?
Flipdeck's analytics will show you which marketing content is working and which is not.
You'll know the top content cards used by your sales team and shared with customers
You'll know who the "power users" are from a built-in leader board
You'll be able see which teams or regions are most active
You'll have metrics on cards opened, what customers clicked on and when, and how many times they accessed your content
If you're thinking, "Maybe I should check this out..."
Stop wasting money on sales content
According to Forrester Research1, 62% of business buyers report that vendors give them too much content, and most say what they get is useless. Creating content that never gets used or is ineffective is a waste of money. Download the Free Guide for 10 principles you can use to enable your sales team with good content to close more business.
1 The Forrester Wave™: Sales Enablement Automation Platforms (Sept. 2018)