Organize and Deliver Your Great Content
You've invested a lot of time and money creating all kinds of content, but the people who need it can't find it — and if they can't find it, they can't use it. Sharing your best content should be simple. The answer is Flipdeck, which uses visual cards that link to content anywhere.
The right piece of content in the right hands
Whether your content is meant for internal teams, external customers, channel partners, or anyone else — organizing links to online content on visual Flipdeck cards lets everyone quickly find, access, and share content with those who need it. Here are a few of the ways customers use Flipdeck.
Flipdeck is versatile. Where do you need to make it simple for your people to access and share content? Request a demo to learn more.
Share card collections
Flipdeck is a web-based tool that makes it easy to find and share the blog post, presentation, article, web page, or video your customer needs in the moment. With Flipdeck, you can share content in a way that is enjoyable for both you and your customers.
You can pull together your Flipdeck cards into an online collection that you use over and over or tailor it for a specific company or person. Select the content you need and create a custom URL that you can send via social media, email, text, and more.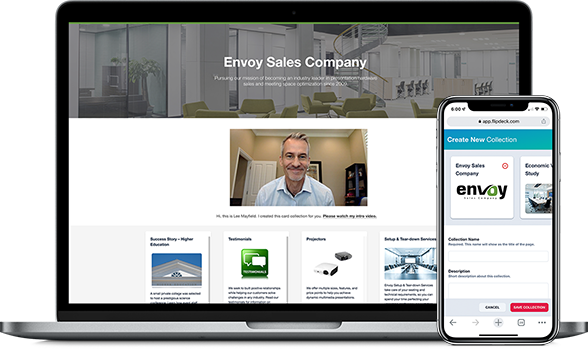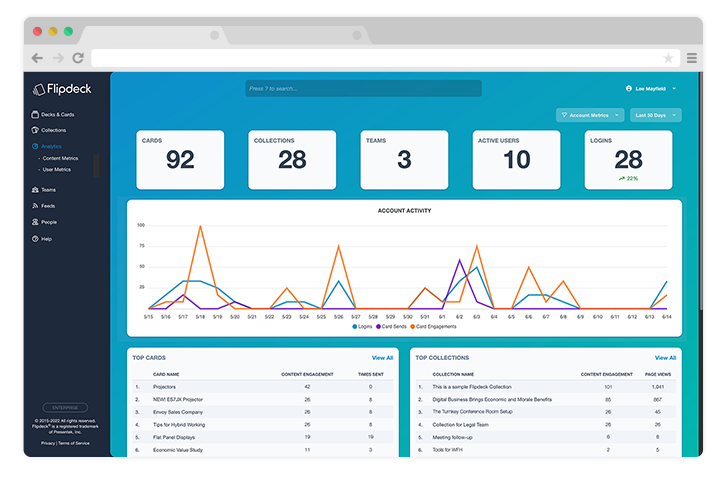 Learn from analytics to improve content marketing
Make sure your team is sharing content that works. With Flipdeck analytics, account owners can view important information right from the dashboard.
See which content is being shared and which is not
Determine which content cards see the most engagement
View if an email recipient opened the email or clicked any card links
Know which card collections generate the most views
See the teams and users that are most active
When you know what's working — and what isn't — you can make more effective strategy decisions for content going forward.