Simplify Digital Customer Engagement — Powered by Flipdeck
Welcome! We're so glad you've checked out what Flipdeck can do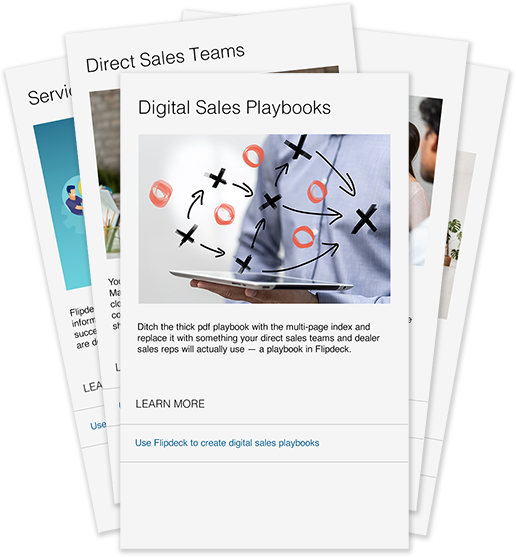 We created Flipdeck to give professionals like you a simple, highly visual way to share digital content with customers and team members — so you can inform, educate, train, motivate, and delight your audience, quickly and efficiently.
Why Flipdeck:
Meet your audience's specific needs with ease.
Cards & decks are a familiar concept that is easy to understand and navigate (think trading cards).
The right content is always at your fingertips, so you can find and share information fast.
Add a visual front end to your content, so it's both interesting and easily consumed.
Bring organization into unorganized processes.
Easy-to-use, fast start up, and low cost.
Wondering what to do next?
You can try Flipdeck FREE for 15 days! No credit card required. Get started.
Have questions?
We're here to help. If you're unsure how Flipdeck might fit within your company, we can create or a prototype specific to your company's needs. Contact us for personalized assistance.
---
Looking for inspiration?
Check out the links below for more resources.