Is it time for a pivot on your sales and marketing playbook?
You've spent a ton of energy on:
Analyzing markets and trends
Assessing the competition
Determining strengths, weaknesses, opportunities, and threats
Collecting all that information into a playbook that is supposed to guide Sales to repeatable success
But… is the resulting playbook packed so full of knowledge and guidance that it turns into a lengthy PDF that no one wants to read — let alone use in their selling process?
Is it a pain to keep the playbook up to date with all the changes that occur, forcing you to daily distribute updated plays to the field?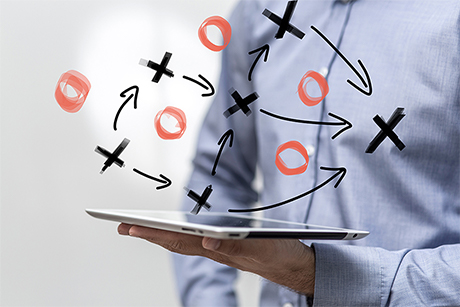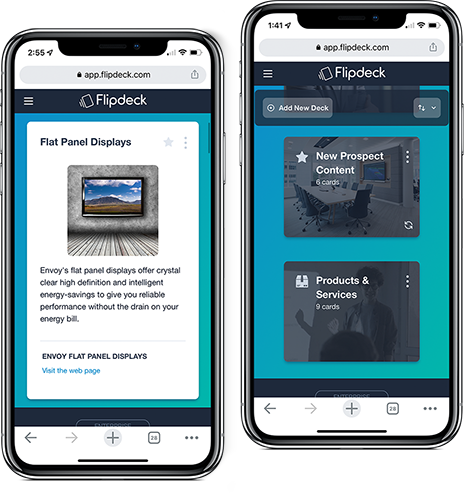 Here is some good news:
There is a better way to create a playbook for your sales team — one that is much simpler, more visual, and more modern.
Ditch the thick pdf playbook with the multi-page index and replace it with something your direct sales teams and dealer sales reps will actually use — a playbook in Flipdeck.
Flipdeck is designed to be highly visual and intuitive. Remember trading card games? Everything your sales channels need is organized into Flipdeck decks and cards. Each card contains links to sales content material, which can be stored anywhere.
Startup is easy.
Once you've created your decks and cards, invite the field to access your Flipdeck playbook.
Your sales team will have the content they need to close business, right at their fingertips. Information is organized, accessible, and easy to find. Send cards to customers via email or create a collection of targeted content and send a link through Linkedin messaging, Zoom, or Microsoft Teams.
When new information is available or cards get updated, your sales team gets notified about new and updated sales plays or supporting content.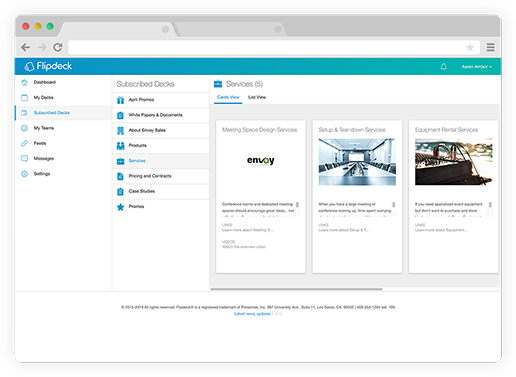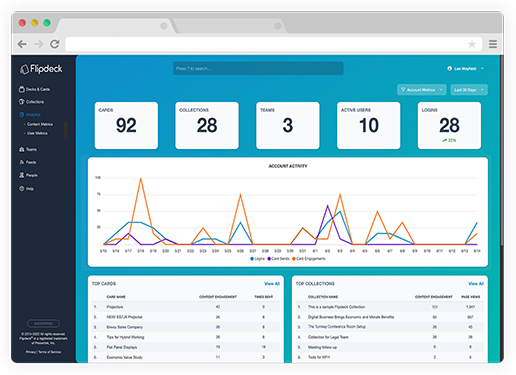 Use the analytics dashboard to determine who is using your playbook and which sales content is actually being used by your sales teams.
See below for some examples of how Flipdeck can help you create a flexible, adaptable sales and marketing playbook:
Flipdeck gives you the flexibility to create a playbook tailored to your selling channels
If your sales channels are seasoned pros, they may not need much more than:
What are the products/services I am selling?
Who are the most likely potential customers?
Who am I competing with?
What administrative or legal steps do I have to follow?
Here's how to do it in Flipdeck:
Create a Products/Services deck (or multiple decks) with cards for individual products/services, specs, price lists, etc.
Create a Customer deck with cards for market segments, geographic areas, endorsements, testimonials, etc.
Create a Competition deck with analysis cards for each significant competitor.
Create an Admin deck with cards for quoting, order processing, terms & conditions, installation instructions, warranty, etc.
If sales channels need more support, or you are introducing a new product or service, you can add:
Decks and cards with links to video to coach the field reps through different topics
Decks and cards with links to explain the strategy behind the new products/services
If sales channels need feedback or motivation, you can add:
Decks and cards that track performance, sales contests, goals, etc.