Flipdeck Agency Partner Program
Create new revenue for your digital agency by bringing new value for your customers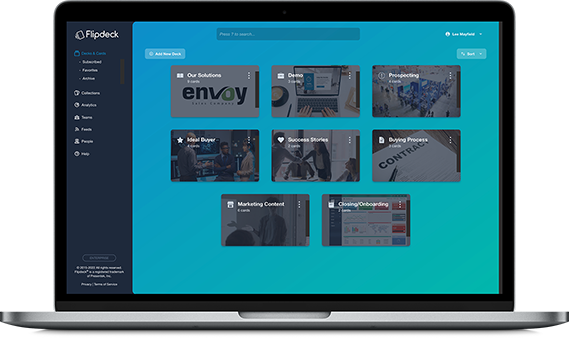 The Opportunity
We came up with Flipdeck because our customers struggled to organize and deliver the content that was being created for them. Some content was created by us and some by other agencies, but the common complaint was that the people who were supposed to benefit from all this great content couldn't find it. If they did stumble across it, they really were not given any clue of how to use it — and no one really knew what was being used and what wasn't.
Your agency is doing amazing things for your clients. Don't let your work get lost in some dusty intranet or be forgotten because it's out of sight and out of mind. Flipdeck is a simple visual organizer that uses decks and cards so it's simple to package your content in a way that makes sense and is easy and fast. And that's where you come in. Flipdeck is extremely flexible and you know better than anyone how your clients can organize content and keep it fresh so it performs.
New sources of revenue
When you refer Flipdeck to your clients you open up both point-in-time project revenue and ongoing recurring revenue. Here are some examples of services that you can provide that attach naturally to Flipdeck.
Content delivery strategy (consulting and planning)
Implementation (setup Flipdeck Cards & Decks for your client)
Generate new content to address gaps
Ongoing maintenance of Cards & Decks; add new ones as content is generated
Ongoing account admin services
Ongoing measurement of effectiveness (review analytics, advise client on refinements and improvements)
Create more content aligned to what is performing
How much can I earn?
After many years providing agency services for all kinds of companies, we have a good idea of where the revenue opportunities are and can advise you about what you might charge for these services in conjunction with Flipdeck. For some general info, request the Flipdeck Guide to New Agency Revenue.
Become a Flipdeck Agency Partner
When you become a Flipdeck Agency Partner, some of the benefits include:
New revenue and income sources
New value for your customers
Promotion of your agency
We'll support you and protect your client relationship
FREE Flipdeck demo account and marketing materials
Massively discounted Flipdeck account for use by your agency
Guidance on pricing and professional services strategy
If you want to dive right in, you can sign up for a Flipdeck FREE trial account.
---
Reference Articles