Ace Your Next Sales Kickoff with Digital Tools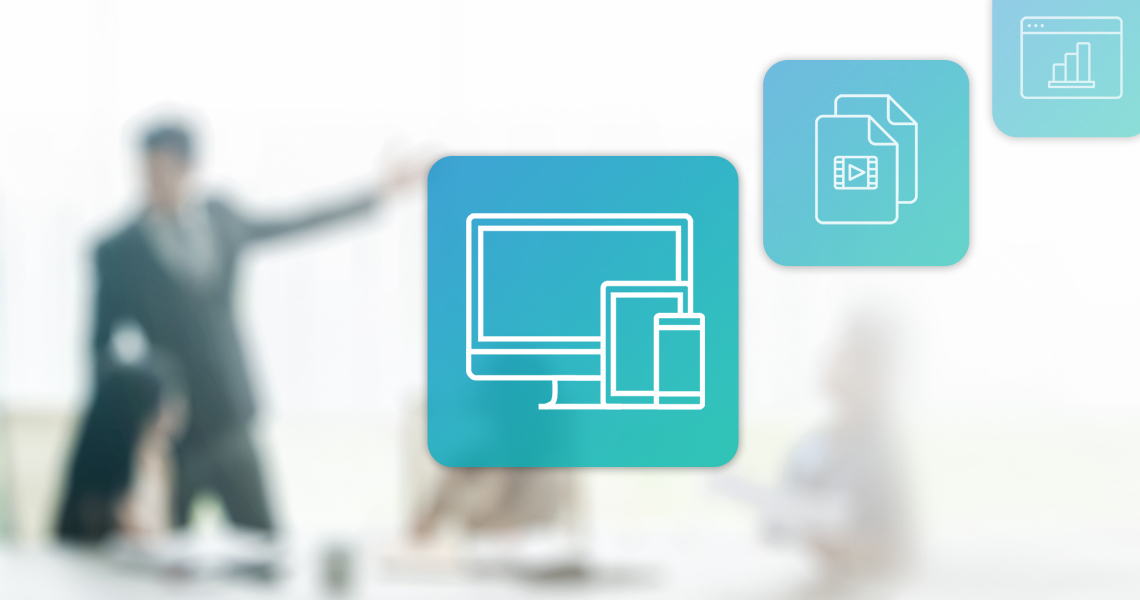 Sales kickoff season is coming, and the right digital tools can make all the difference for a successful event — and beyond.
Equip kickoff leaders with a simple, visual way to share content
Too much information or "one size fits all" can turn people off. Attendees want you to get right to the point, prioritize value, and keep them interested and engaged.
For a successful kickoff event, make sure information is clear, concise, targeted to the audience (Direct Sales, Sales Channels, Inside Sales, Service, and Customer Support) and delivered in a format that is easy to comprehend and quick to locate the information needed.
Trade heavy binders and text-heavy presentations for a digital, visual platform that keeps high-value content organized and easily accessible. Give speakers the ability to pull up information on their devices to quickly view and share. Keep your audience's interest by highlighting your best, bite-sized content. Put kickoff information at attendees' fingertips, so they already have what they need going forward.
Empower your team with a new digital sales playbook
Now that you've gotten your sales teams excited, it's time to build momentum and empower them to sell your products and services. Kickoffs are a great time to launch a new or updated sales playbook, but nothing brings momentum to a grinding halt faster than a resource that is cumbersome and doesn't make a difference in their selling process.
For an effective resource that your sales teams and dealer channels will actually want to use, trade the landlocked pdf for a digital sales playbook that is:
Highly visual and intuitive
Bite-sized (no more information overload)
Easy to navigate
Simple to update
Flexible / customizable for different selling channels
Easy to share / personalize
Trackable
A digital sales playbook with automatic analytics frees up time for your teams to focus on sales, service, and support.
If you're not sure where to begin, we've created several free planning resources to help you get started. Request the template.
Flipdeck can help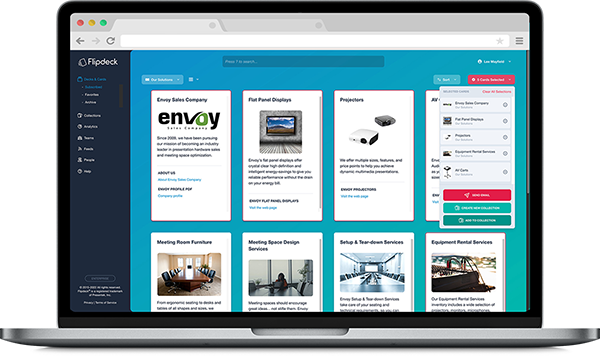 We designed Flipdeck to make it simple for sales channels, kickoff presenters, dealer networks, and marketing professionals to empower personal connections and add value with the right content in the right moment.
Our cards & decks design is a familiar concept that is easy to understand and navigate. Create cards that link to any content you like — complete with images, description text, and links to web pages, documents, or videos. There's no need to move the content from where it already lives.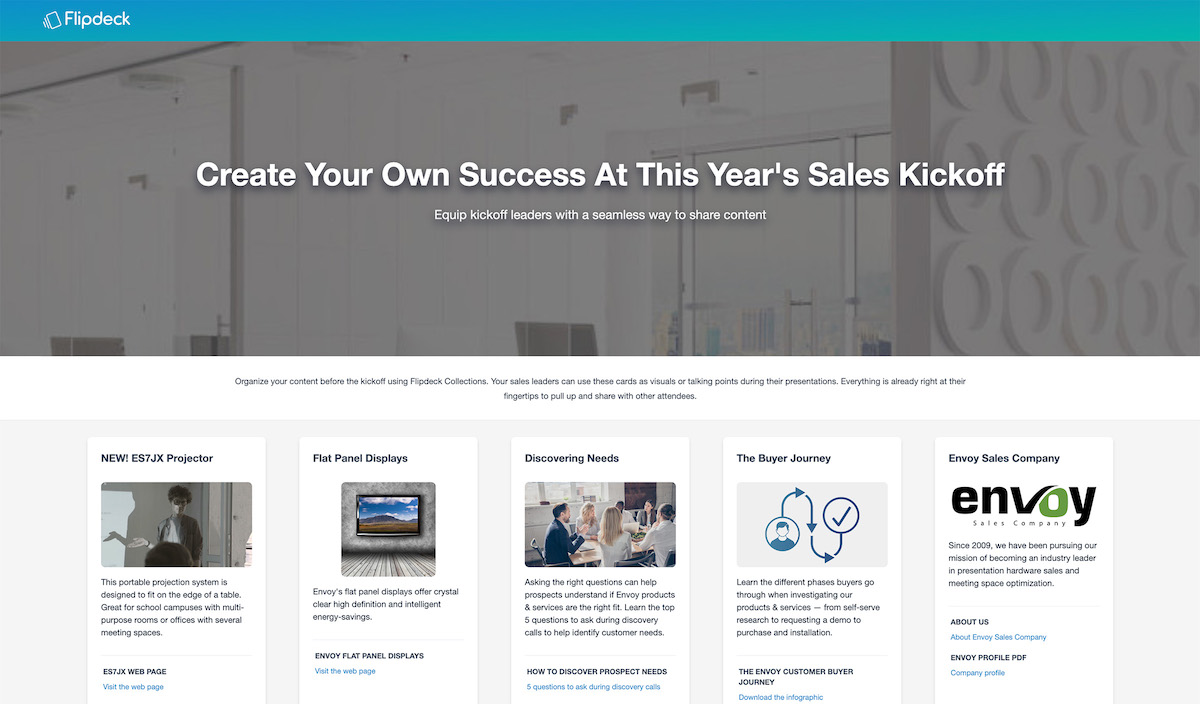 Once created, Flipdeck cards are easy to access and share in seconds via email or a curated Flipdeck Collection. Present kickoff information from a landing page you can share. Customize content delivery for specific customers. Launch new products and services with all the information your sales teams need in one convenient place. Flipdeck Collections make it easy.
For even more convenience, Flipdeck Analytics automatically tracks which content is being used, so you'll know what is working and what is not. No manual data reporting required. Easily identify "power users" of your digital playbook, see which teams are most active, know how each piece of content is performing, and much more.
Are you ready for your next sales kickoff?
Ace your next kickoff event by giving presenters and sales teams what they have been begging for — tools that empower sales enablement, improve content management, and make it easier than ever to add value.
Create an account and let the results speak for themselves.
---
Don't have a Flipdeck account? Create an account and try Flipdeck free.
Learn more about Flipdeck Accounts & Pricing Options.
Have questions? We're happy to help! Email us at \u0069\u006e\u0066\u006f\u0040\u0066\u006c\u0069\u0070\u0064\u0065\u0063\u006b\u002e\u0063\u006f\u006d.